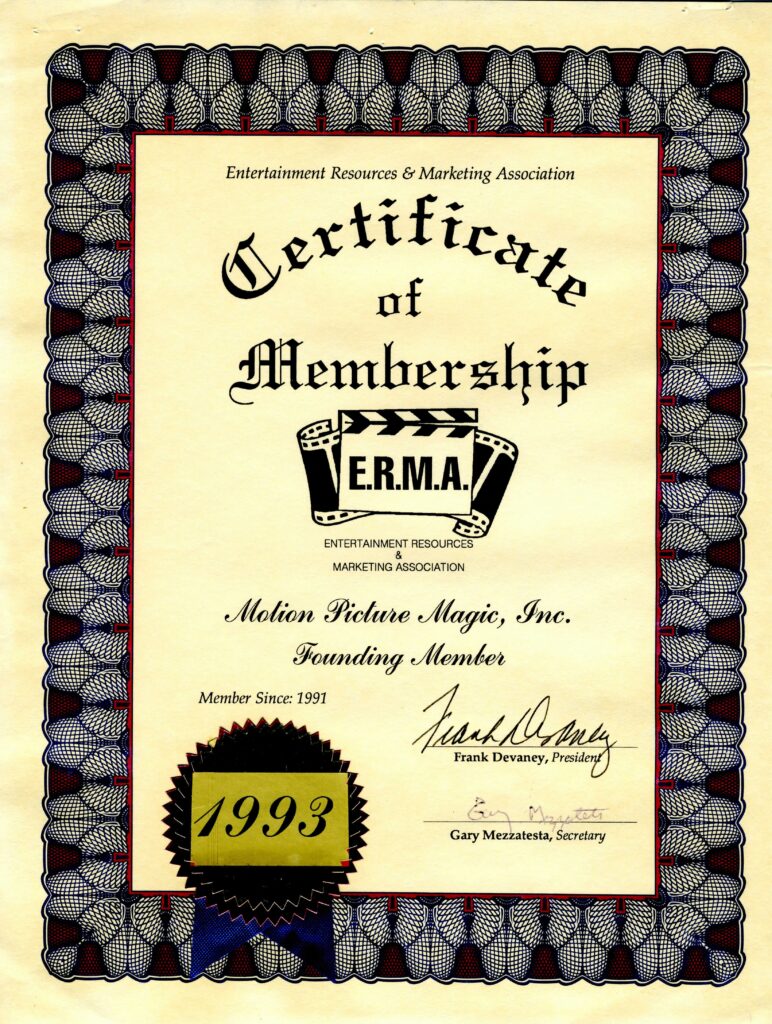 Since 1989, we have implemented creative and effective strategies for product placement, brand integration and promotions that enable our clients to build brand awareness through a broad spectrum of entertainment properties including film, television, celebrity and music events, and more.
Hundreds of companies are involved in entertainment marketing. If you are not, it is well worth consideration. Entertainment marketing is a proven way for brands and services to connect with consumers throughout the world.
Motion Picture Magic is a long-established company that represents products and services, acting as their "agent" to the entertainment industry.  Our cost-effective marketing program helps its clients achieve higher profile consumer impressions and brand awareness through product integration and exposures in film, television and other entertainment properties.  This is one area that allows aggressive marketing without the requirement of a significant hard dollar commitment.  Our program also offers implied star endorsements and cohesive advertising messages to reach targeted audiences at a fraction of standard ad costs through the entertainment industry's high impact.  Typically an entire year retainer program with Motion Picture Magic is less than the cost of one national print ad; offers a guaranteed number of brand exposures; and like a print/media buy, can be directed to reach our client's target market(s).
We proactively seek out and position brands and services with appropriate identifiable exposures in feature films, network and cable TV shows and series, game shows, music videos, webisodes and other entertainment properties. We involve our client's products or services in every appropriate set, as well as being used, held, worn, consumed by, or seen with lead characters as their implied product of choice.
Integration can include brand verbal mentions, hands-on use, branded store displays, TV commercials shown within a film, signage and banners, as well as key characters of an entertainment property physically interacting with a brand.  Where beneficial to the client and studio, tie-in promotions for film releases can also be utilized to enhance the brand and drive sales.
It is important to note that we review and scrutinize all potential placements and integrations to verify that they meet the objectives and strategic goals of our clients. Our clients have the right to pass or approve on any project involvement based on our recommendations.
As a part of our base retainer program, we also provide each client with weekly updates, quarterly reports, a full annual report along with calculated media values, and an annual proof-of-performance video DVD that includes titled clips of every branded integration achieved.
Consumer awareness is a serious business.
"Even the biggest stars need a great agent" – Julie Helms –
Important questions to consider:
How does a company's competition achieve prominent brand exposure and product integration in film and television?
How is a company's competition getting implied star endorsements without major dollar outlays?
Motion Picture Magic helps its clients reach target consumers in unique, innovative and exciting ways that generate consumer awareness and sales through successful placements and integrations, and resulting exposures in film and television.
Research has proven that consumers seek to emulate the product choices of their favorite stars or shows.
Films offer exciting tie-in promotional opportunities from which to generate sales and motivate sales staff and distributors.
Film and TV exposures cut through the 'clutter' of ordinary advertising; create "top-of-mind" consumer awareness; and build product confidence and loyalty.
Film and TV exposures can be far more cost-effective than traditional advertising, creating CPMs in the low-cents-per range.
The Value of Motion Picture Magic's Service Program
Our strategy is to develop comprehensive programs utilizing entertainment properties to support the overall marketing objectives of our clients. We structure our client service department in such a manner that we become an extension of the client's marketing organization. Our program utilizes the media value of identifiable exposures in feature films and television productions.
In addition, we present merchandising and licensing opportunities and promotional benefits through proactively seeking entertainment properties, sweepstakes, sports and special events. This lends exciting creative direction for business-building promotional activity targeted to consumers, distribution and/or trade. Key points of Motion Picture Magic's program:
Keeps the client's products or services in the consumer's eye.
Consumers emulate star choices by seeking out associated products or services.
Placements can not be "zapped" like a commercial.  Instead, they successfully cut through the clutter of standard advertising.
Some placements can involve a brand or service in the storyline and set of film or TV series.  These types of placements can result in verbal references by star characters.
The Product placement program and resulting exposures excite and energize retailers/trade and sales staff.
The program is an innovative adjunct to a client's current marketing mix.
Introduces new products and services or changes in products/services to consumers.
Positions the image of products and services to consumers.
Has a global reach with minimal CPM.
Placement can be used to create an exciting promotion that can be tied to the multi-million dollar media of a feature film.  This historically helps to drive sales.
Additional Service Areas
Consumer and Trade Promotions tied to feature film releases.
Co-op promotions with other Motion Picture Magic clients.
Licensing and Merchandising.
Other Premium Entertainment events include Premiere Parties, Hollywood Celebrity Golf Classics, Starlight Foundation, Academy Awards, American Comedy Awards, Kids Choice Awards, MTV awards and many more.
Please contact us at 818-953-7494 or e-mail to motionpicturemagic@sbcglobal.net for additional information, samples of our work or answers to any questions you may have.